Regular price
$38.00 USD
Sale price
$35.00 USD
Unit price
per
Sale
Sold out
13oz. Wooden Wick Soy Candle
NOTES:
Top: Orange Peel, Butter
Middle: Pumpkin
Base: Caramel, Maple, Pecan, Vanilla

Pumpkin Bumpkin Candle takes you on a journey where gourmand delights meets harvest time. A harmonious fusion of caramel, vanilla and pumpkin with subtle notes of oranges will envelope you in a decadent embrace. The rich and buttery aroma of "Pumpkin Bumpkin"  weaves a thread of sweetness in the air like a cozy Western town nestled beneath a golden sunset. If you like dessert scents, this one's for you!
Average burn length with proper wick trimming is 80+ hours!
Western Flame candles are:
Hand-poured with Love
Natural Wood Wicks
Top Notch Qulaity
Premium Fragrance Oils
100% Soy Wax
Vegan and Cruelty Free
30%-50% longer burn times than typical paraffin candles
Western Flame Candle Co. is NOT responsible for any damages, injuries, or loss (of any kind) that result from the use of our candles due to negligence, misuse, or lack of attention. Please remember you are playing with fire and burning at your own risk, making you responsible for your own safety. Be sure to use caution and proper burning techniques with these candles.
Share
View full details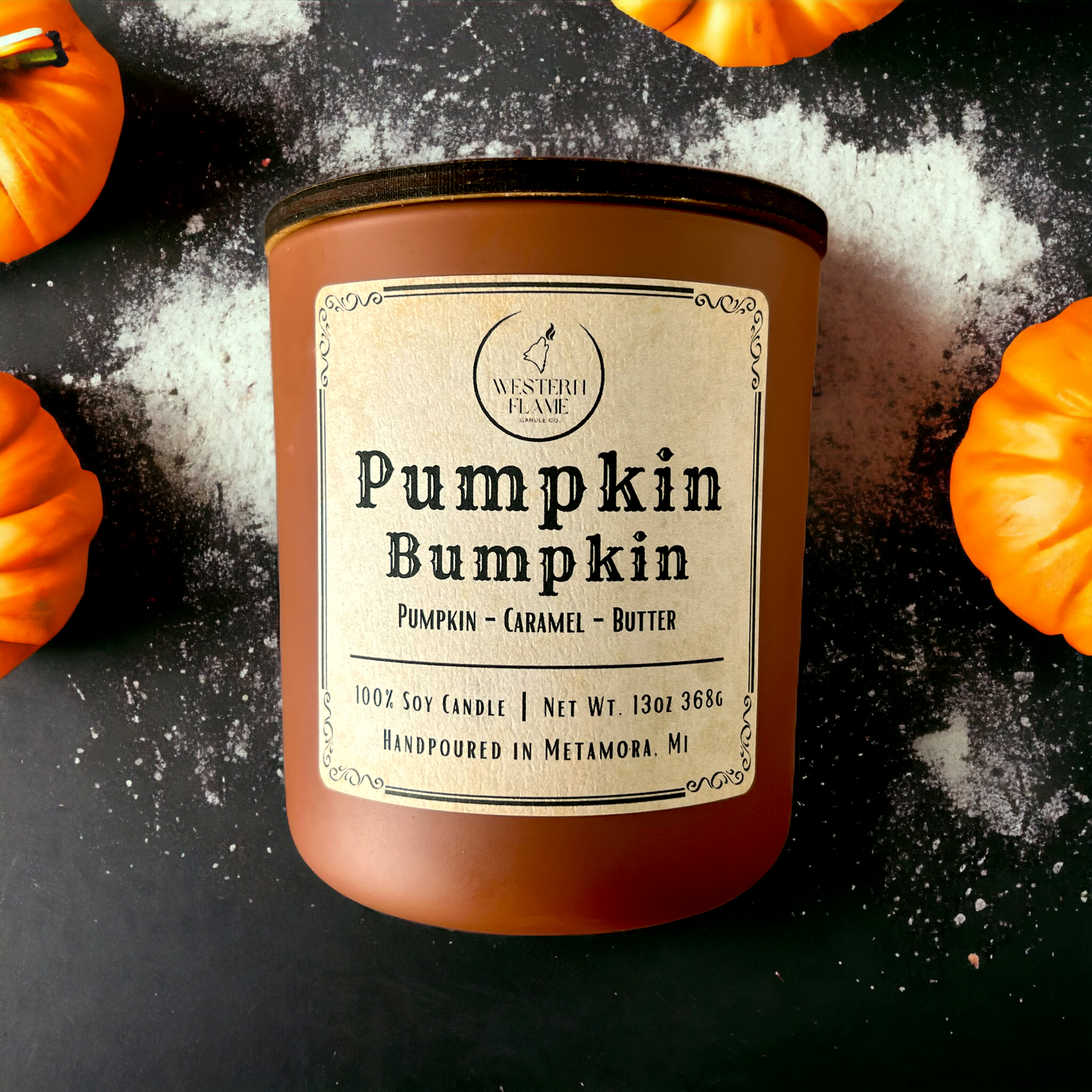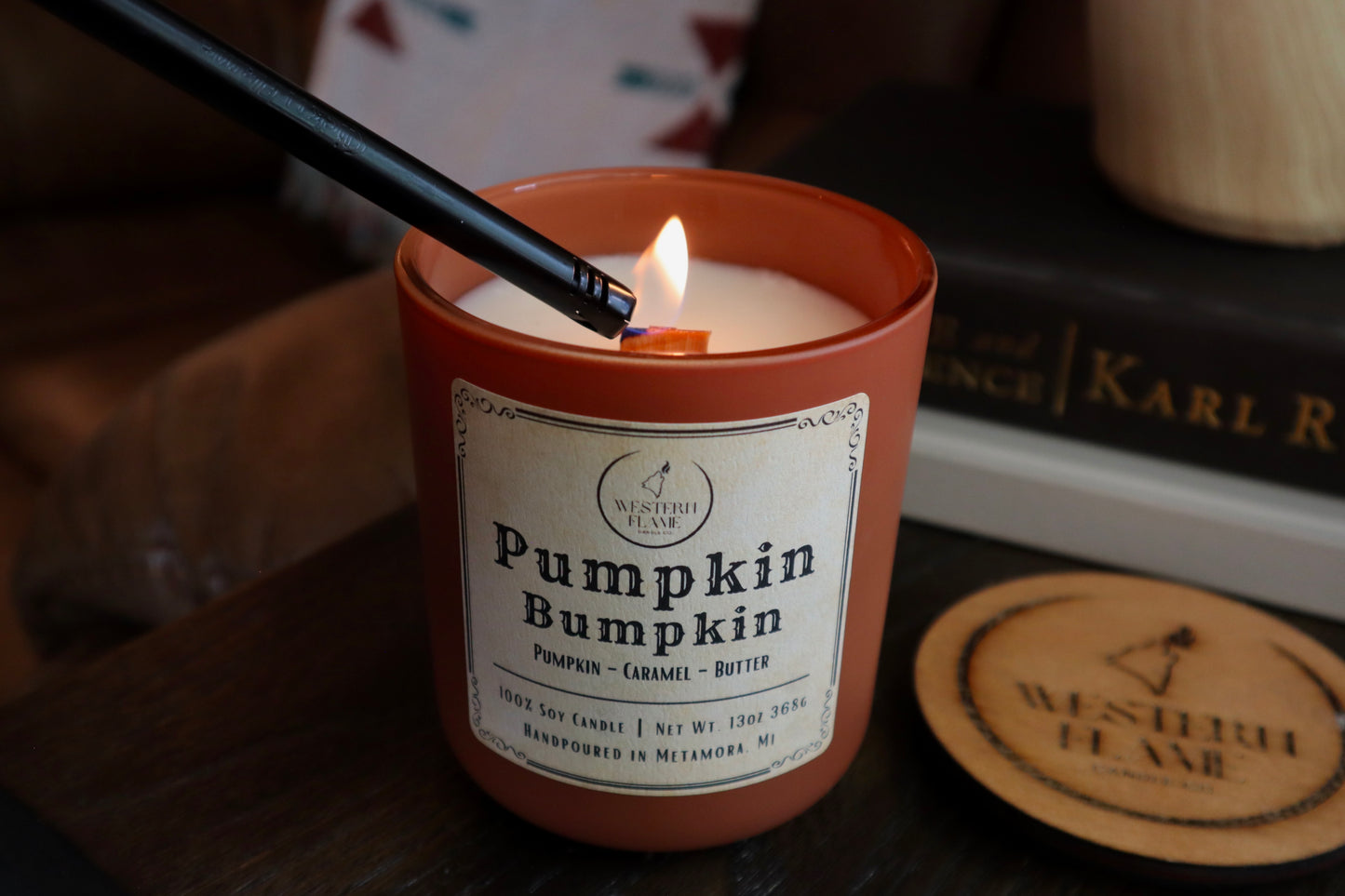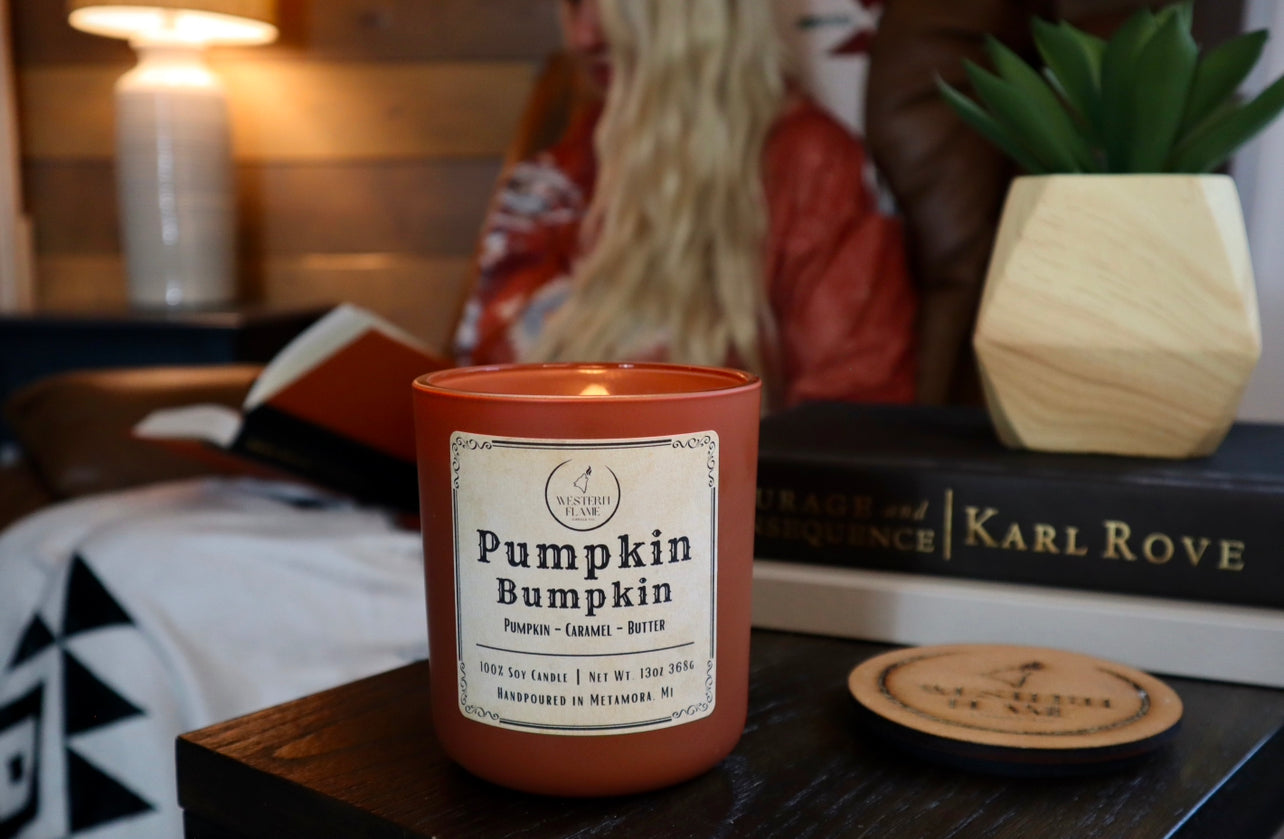 Pumpkin Bumpkin
Wonderful smelling candle!!
Thank you so much!! So happy to hear! Pumpkin Bumpkin does smell amazing! Be careful not to eat it ;)
Amazing candles
"I recently indulged in the delightful experience of burning the 'Pumpkin Bumpkin' candle, and I am absolutely enchanted. From the moment I lit the wick, my senses were greeted with the warm, inviting aroma of spiced pumpkin and rich caramel. It's like a tasty dessert captured in a jar.
The scent is a perfect balance between the comforting sweetness of caramel and the earthy warmth of pumpkin spice. It's not overpowering but instead fills the room with a mouthwatering fragrance that's both comforting and indulgent. It instantly transported me to a pumpkin patch on a crisp fall afternoon.
The candle's burn time is impressive, offering hours of pure delight. The warm, flickering glow added a touch of ambiance to my space, making it an excellent addition to my seasonal decor. The jar itself is beautifully designed, making it a lovely gift option for friends and family.
The 'Pumpkin Caramel Delight' candle has become a staple in my autumn routine, evoking feelings of nostalgia and coziness. If you're a fan of fall scents, I wholeheartedly recommend this candle. It's the perfect way to embrace the spirit of the season and create a warm, inviting atmosphere in your home."
This review highlights the enticing scent, burn time, ambiance, and suitability as a gift, emphasizing its ability to capture the essence of autumn.